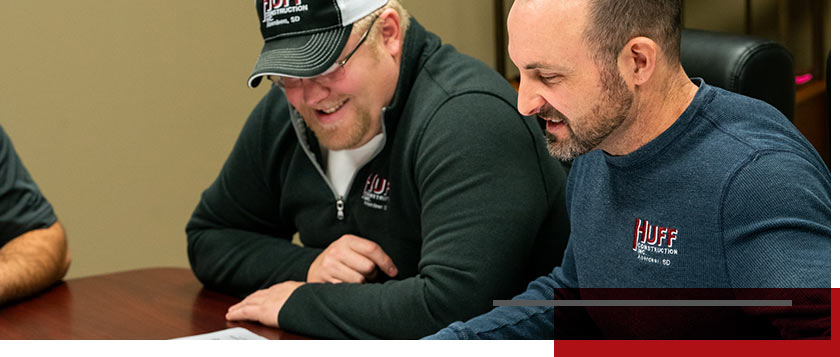 CAREER OPPORTUNITIES
At Huff Construction we pride ourselves on fostering a positive and collaborative working environment where everyone's ideas and contributions are valued. Our team is filled with innovative thinkers and problem-solvers, who work hard and have fun doing it! If you want to be part of a company that values growth, creativity, and teamwork, come join us today!
General Laborer (Aberdeen, SD and Norfolk, NE)
A General Laborer will need to perform a variety of general construction duties at Huff Construction. Physical labor required for all jobs; some may require special training or experience.
Responsibilities:
Perform work as directed by Supervisors
General cleanup and preparation of site
Handling material, transfer to and from
May perform work with variety of tools
Requirements
6 months or more of construction experience preferred
Knowledge and use of general safe work practices
Excellent work ethic and communication skills
Ability to lift heavy objects and perform strenuous labor
Can work efficiently both with team members and independently
Construction Site Superintendent (Aberdeen, SD)
Huff Construction Inc., a well-respected family-owned Construction Company, is looking for a Construction Site Superintendent. We are seeking a highly motivated, conscientious individual with commercial construction experience who wants to be part of our team for the long term. 
Duties & Responsibilities: 
Collaborate with other construction management to determine budget and timeline. 
Inspect and review projects to monitor Huff Construction Quality Control Program, compliance with building codes and Huff Construction Safety Requirements as well as adherence to contract documents. 
Interpret and explain plans to staff and the representing owner. 
Coordinate all construction services and activities, including inspections with authorized local jurisdiction.
Direct and supervise workers and subcontractors on job site. 
Take actions to deal with the results of delays and emergencies at the construction site. 
Actively seek effective ways to put work in place.
Push the project schedule.
Plan and coordinate all labor, materials and equipment required for project completion.
Schedule subcontractors, consultants and vendors to ensure project completion.
Attend weekly subcontractor meetings designed to coordinate work.
Daily project walk-throughs to monitor activity and assist in future planning.
Assist in proposals and interviews.
Identify conflicts in construction progress and communicate with project team for a resolution.
Provide input on procurement schedule to coincide with construction schedule.
Help produce a six-week phase schedule to meet milestone deadlines.
Maintain daily activity reports for the job site.
Assist with job progress and completion punch list identification.
Always keep the job site in a clean and organized manner.
As time allows this individual will help in performing all construction tasks. 
Cultivate a positive culture.
Promote the vision and core values of Huff Construction.
Requirements
Understanding of all facets of the construction process.
Outstanding communication skills.
A team player with leadership abilities.
Excellent organizational and time-management skills.
Competent in conflict and crisis management.
APPLY NOW
LET'S BUILD
We are excited to work with you to make your construction project a seamless success.