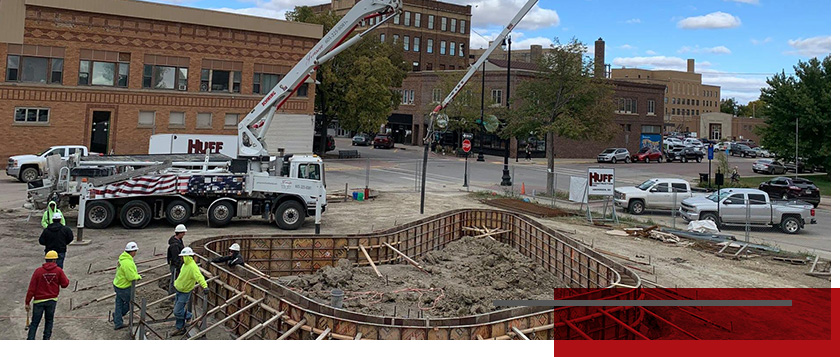 Concrete Contractors
At Huff Construction, we master several concrete solutions and are skilled as a total package concrete contractor. Huff provides services for all concrete needs including pouring concrete surfaces and building foundations as well as structural elements. We utilize site layout and design, along with our cutting-edge technologies such as 3D paving using Ligchine Laser Screeds to produce a strong and durable product to last a lifetime.
CONCRETE DONE THE RIGHT WAY
Whether you're looking for a concrete contractor for your commercial project, a sidewalk contractor or a driveway contractor – we can do that and more. Check out our list of capabilities below.
Structural Concrete
Concrete Footing
Concrete Foundations
Concrete Piers
Concrete Flatwork (flat, 2D or 3D)
Concrete Retaining Walls
Exterior Concrete
Concrete Sidewalks
Concrete Driveways (flat, 2D or 3D)
Concrete Parking Lots (flat, 2D or 3D)
Concrete Curb and Gutter
Stamped Concrete Patios
Decorative Concrete
Retaining Walls
Services
Building Layout
3D, 2D or Flat Screeding